RESTAURANT CAP O SUD
Restaurant , Brasserie , Pizzeria , Fast Food , Traditional cuisine , New French cuisine
at Le Bois-Plage-en-Ré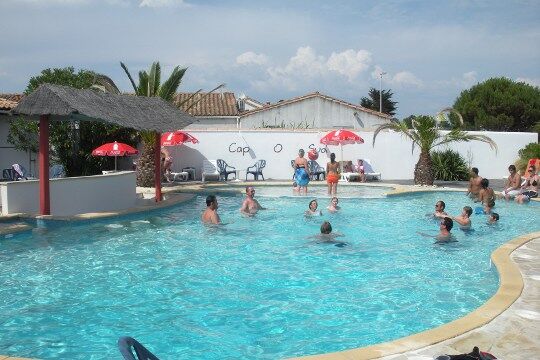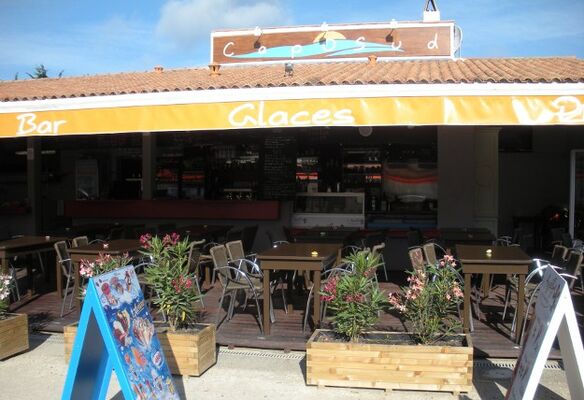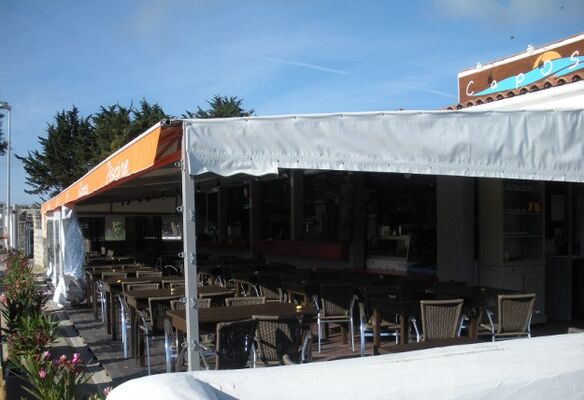 To spend pleasant moments between the sea and swimming-pool…

Situated 100m from the most beautiful beaches of Île de Ré, Cap O Sud welcomes you in a relaxed atmosphere. Sit back on the wooden terrace near the swimming-pool and its palm trees, you can have an afternoon drink, or have lunch or dinner.

Day's specials, salads, mussels, meat and fish 'à la plancha', ice-creams and homemade desserts.

Lunch price includes access to the swimming-pool.

Booking advisable in season.

Environment

Near the beach

:

Distance de la plage

at

100 m

Capacity

Rooms :

1 Room

People :

100 place setting

Spoken languages
Arrangement

Activities

Supervised beach at 200 m
Fishing at 100 m

Sailing - Windsurfing at 200 m

Equipment

Access for disabled
Bar
Car park

bus parking
Open-air swimming pool
Terrace

Services

Accessibility
Openings

From

April 5, 2019

until

September 22, 2019
Leave a review about Restaurant Cap O Sud :
Horrible

Bad

Average

Good

Excellent
excellent

Venus en famille par hasard le soir, nous avons aimé la qualité des moules marinières. Le service a été correct. Bon rapport qualité/prix

Accueil désagréable. A 7 minutes près, on s'est vus refuser une pizza ! En pleine saison, il vaut mieux changer d'activité ! On a connu bien mieux les années précédentes, c'est très dommage.

Cher(re) Monsieur ou Madame, Je souhaite attirer votre attention sur le fait que les horaires de services sont bien affichés à l'extérieur du restaurant et que nous nous engageons à les respecter. Pour votre information, quand le nettoyage de la cuisine est commencé (22h), il est impossible de satisfaire aux demandes dans de bonnes conditions d'hygiène après cet horaire. En ce qui concerne mon futur changement d'activité professionnelle, j'espère bien pouvoir compter sur votre compétence pour m'orienter dans mon futur choix ! Au plaisir de vous revoir, pendant les horaires de services affichés.

La qualité ne suit pas les prix

Nous avons commandé deux entrecôtes (marquées 200g sur le menu) à 15.20€ l'une. Au bout 45 minutes d'attente, ils nous sont arrivés deux steaks comprenant plus ou moins 80% de gras immangeable, en gros deux bouchées de viande. Nous avons signalé ce fait mais aucun geste n'a été fait pour rattraper ce que l'on pourrait appeler un vol en bonne et due forme. Si un restaurant considère qu'il peut servir des plats à un certain prix, alors la qualité doit être au rendez-vous. Ce fut notre seule experience culinaire négative sur l'île de Ré. Rien à dire au niveau du personnel, fort sympathique.

service fort sympathique...et pâte à pizza maison plutôt bonne.

restaurant bien placé, nourriture correcte, service assez rapide. Trop souvent en rupture de moule frite et une serveuse un peu trop zélée.

Bonjour, Je vous remercie pour votre commentaire. Je dois quand même y apporter une remarque pour ce qui concerne le "trop souvent en rupture de moules/frites". Cela est arrivé 2 ou 3 fois pour cette saison et c'était vers 21h/21h30, en sachant que le service se termine à 22h.Pour notre défense : nous préférons proposer à notre clientèle des produits frais avec arrivage quotidien. J'espère que votre séjour sur l'ile de ré s'est bien passé et peut être à une prochaine fois pour déguster un bon plat de moules/frites !

Bon rapport qualité/prix a tester

Ambiance sympa et decontracte Les plats sont bon ! nous y sommes allés un soir de concert, super ambiance !!

accueil et service très sympa, plats variés et tarifs non excessifs ! que demander de plus ? à conseiller pour les familles....

This is just down the road from where we are staying and is a "simple" yet good option for lunch, après plage cocktails or dinner. Good family friendly restaurant with great pizzas

Un détour indispensable comme tous les ans, un gérant très acceuillant, une belle piscine, des moules aux roquefort delicieuses et un très bon mojito! Loin des paillettes de St. Martin. A l'année prochaine.