CENTRE EQUESTRE DE RE
Horse-riding , Course , Introductory course , Advanced course , Sports activities
at Saint-Clément-des-Baleines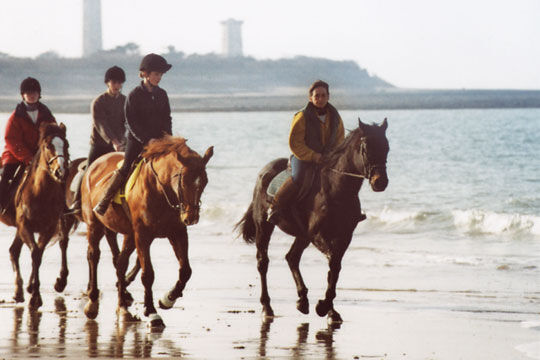 At 50 meters from the beach, we are waiting for you to make you discover horses and Ile de Ré.

Come and discover the north of the Island in a different way !

Thanks to the contact with your horse, perceive the salt marshes atmosphere, and admire the riches of the wildlife.

Nearby the Natural Reserve of Lilleau des Niges.

For the most experienced ones, you will gallop on the La Conche Beach and enjoy the sunset on the Phare des Baleines.

We also offer you lessons and courses.
Leave a review about Centre Equestre De Re :
Horrible

Bad

Average

Good

Excellent
Prix très attractif. Chevaux sympas, calmes, visiblement rompus à l'exercice. Balade vraiment très chouette, marais, forêt, plage; un grand plaisir. Mais alors l'accueil et l'encadrement... Copie à revoir, aucune consigne avant de monter sur le cheval, une fois en selle aucune écoute, réponse aux questions du bout des lèvres.... Heureusement que nous avons décidé de prendre ça à la rigolade... Pare que nous avons vraiment eu la sensation de déranger...

Balade très calme, chevaux un peu mous, peu d'accès à la plage mais prix très attractifs

Une superbe promenade dans les marais, la foret et la plage. Des chevaux hyper sympa, un encadrement parfait. Tout juste génial.