Le chemin des marais
Touring cyclist , Natural
at La Couarde-sur-Mer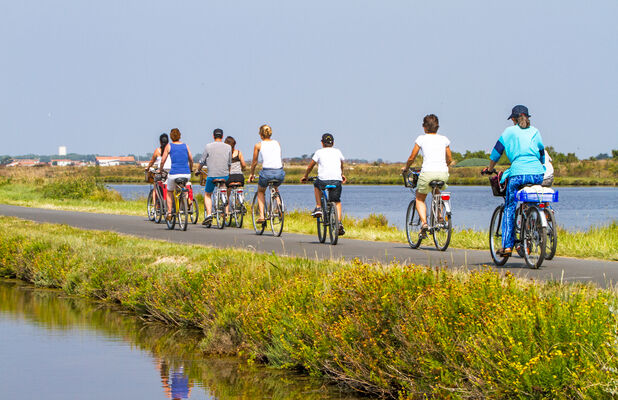 With this route, explore sceneries in which Île de Ré's white gold is produced.

The population of salt workers had been living on the marshlands around Fiers d'Ars for a long time. But the annual production of 30,000 tonnes of salt in the 19th century has fell to 2,000 tonnes approximately today. About sixty salt workers produce salt today. Young people who have a passion for salt and want to save the future of these salt marches.

Explore these remarkable and peculiar landscapes…

Difference in height

39.39 m

Documentation

GPX / KML files allow you to export the trail of your hike to your GPS (or other navigation tool)
Points of interest
The population of salt workers had been living on the marshlands around Fiers d'Ars for a long time. But the annual production of 30,000 tonnes of salt in the 19th century has fell to 2,000 tonnes approximately today. About sixty salt workers produce salt today. Young people who have a passion for salt and want to save the future of these salt marches.

Fiers d'Ars, a small inland sea, which is gradually silting up, is a great ecological richness and the favourite place for migratory birds.

You will be surprised by the church of Saint-Etienne-d'Ars to be found in this Marshland Route. Its belltower, slightly inclined because of the lightning in 1840, with its famous curved spire painted black and white, is used as a landmark.

After passing the 80m wide isthmus of Martray, the cycle path seems to be balancing itself on the ocean.

Set at the crossroads of the island roads and right by the ocean, La Couarde sur Mer is primarily a family village.

The heart of the town has a seaside resort feel and is the centre of the town life, particularly with the bandstand producing a buzz of activity. This bandstand, the only one in the island, hosts open-air concerts during all the summer season. Other concerts, exhibitions, performances and films are scheduled at La Maline, a cultural centre situated on the promenade at the heart of the village.

As for beach lovers, several kilometres of golden sand are at their disposal together with a wide range of watersports activities.
From a distance, the first thing indicating the town of Ars, visible whether from the land or the sea, is the white belltower and its black spire. And it is natural since it was used as a landmark before lighthouses were built. Ars en Ré is one the Most Beautiful Villages of France. It houses the most important harbour of the island accommodating more than 500 moorings; life is spent between the harbour and its cafés, the church and the market, attracting numerous visitors. Surrounded by the sea and salt marshlands, market gardens and vineyards, Ars en Ré has an immense charm combining simplicity and elegance. No doubt you will succumb to its charms…
5
Maison du Fier et Réserve Naturelle Lilleau des Niges
At the far end of the island, the village of Les Portes en Ré nestles among forests, salt marshlands and beaches. With its tables outside cafés, and restaurants, the Place de La Liberté is at the heart of the village and bustles with life late in the afternoon when locals and tourists come back from the beach.

Along the narrow streets, behind simple facades, beautiful houses belonging to inhabitants in search of peace and quiet.

In the nature reserve of Lilleau des Niges, accessible either on foot or by bike, you will be able to view thousands of birds during their migration or at the time of nesting.

Not mentioning Trousse Chemise forest would be a regrettable omission: this idyllic spot, immortalized by Charles Aznavour, retains its unspoilt magical atmosphere.
Enjoyed this circuit? So don't hesitate to carry on discovering the "natural" side of the island thanks to two other routes: "Forest Path" and "Countryside Path"!
39 meters of difference in height

Start altitude :

5 m

End altitude :

2 m

Maximum altitude :

5 m

Total positive elevation :

39 m

Total negative elevation :

-42 m

Max positive elevation :

2 m

Min positive elevation :

-3 m
Leave a review about Le Chemin Des Marais :
Bad

Average

Good

Very good

Excellent
très joli circuit que nous aimons faire tous les ans

Un joli voyage au pays des oiseaux

Nous l'avons fait en vélo avec nos enfants, puis en couple avec le chien en laisse (très important pour ne pas déranger la faune); penser à ramasser les déjections du chien lors des arréts pour ne pas abimer ce paradis sur terre. Une belle journée en flanant... Visiter l'écomusée pour ne rien rater du spectacle local, Ne pas hésiter à le fréquenter au crépuscule, ou mieux tôt le matin, et là sans le chien... on y retourne en mars 2018

Il faut partir assez tôt pour pouvoir profiter des huîtres , des salins, de la réserve naturelle et enfin de la belle plage des enfants aux portes en ré au bout du circuit avant de revenir .

Belle balade de Fier et du LPO

Belle balade surtout dans la réserve naturelle. Attention nous sommes partis de St Clément des baleines et nous avons mis 4h au total avec la visite de la maison du Fier et l'observation aux jumelles de la faune.

Très sympa. Attention au retour ceci dit surtout avec du vent de face. La longueur de la ballade aller retour est de 36km!!