CAMPING LES FOUGERES
Rated campground
at Rivedoux-Plage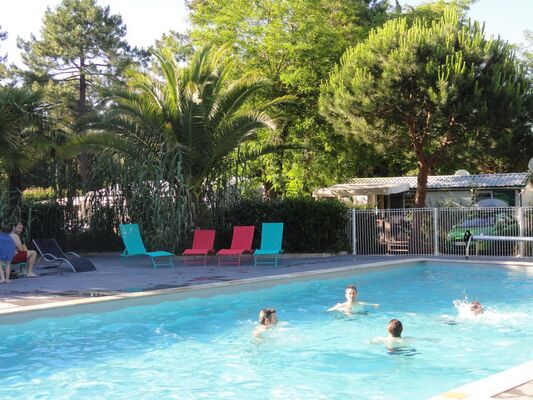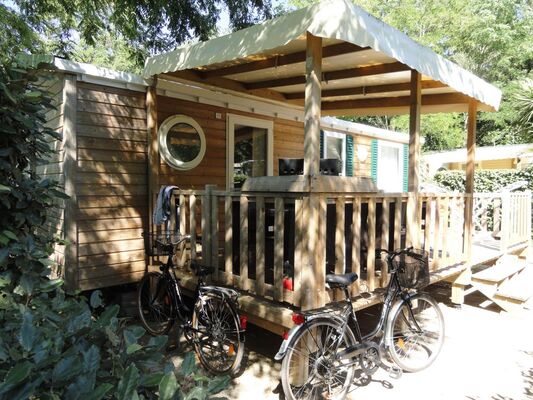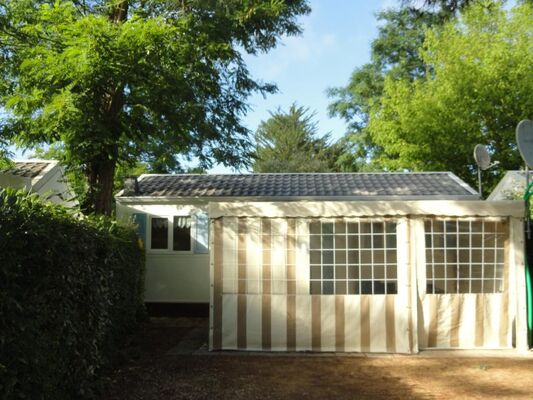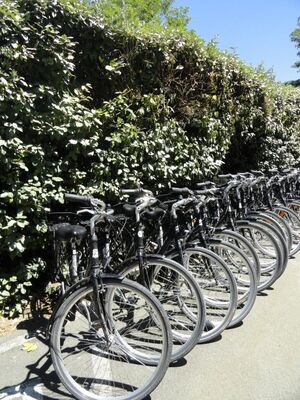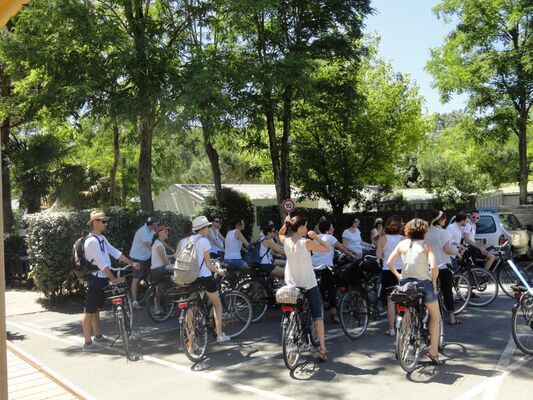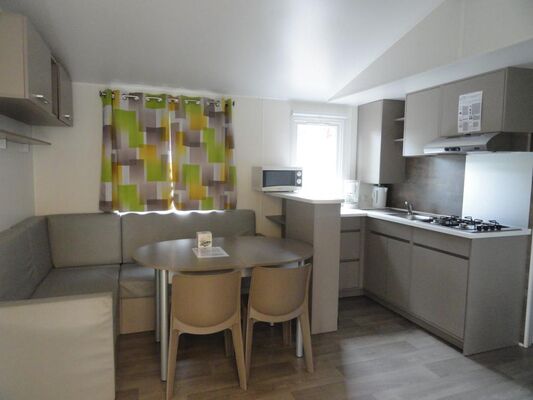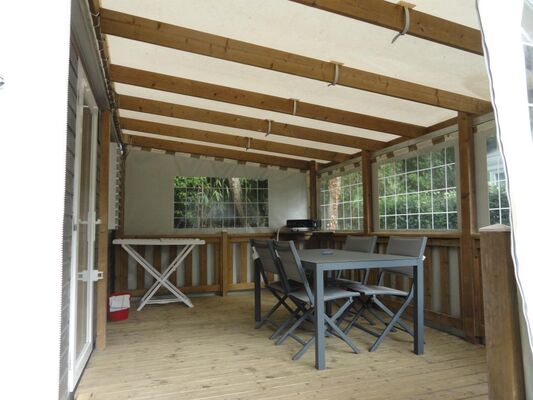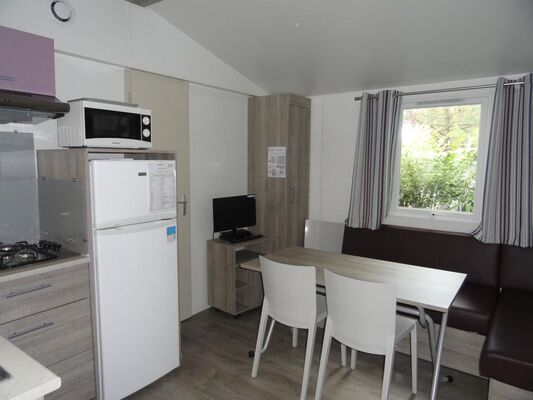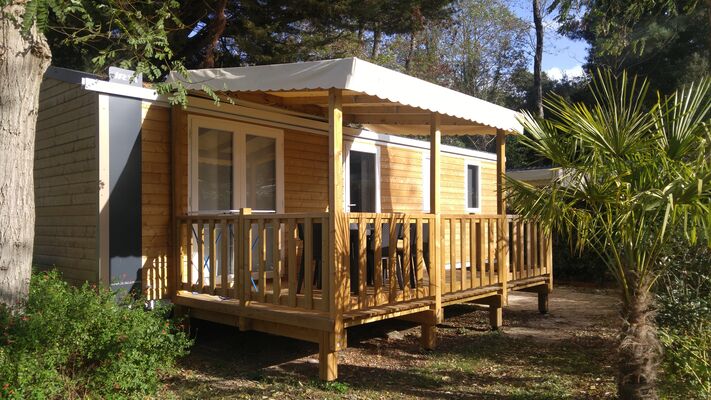 Peace and relaxation to get away from it all!

Situated a few minutes from the harbour, close to the beach and shopping facilities, this holiday park and its swimming-pool welcome you on the edge of the forest of Les Bragauds in a quiet site planted with trees.

If you are a lover of nature and the island, you will have the opportunity to acquire a mobile holiday residence set on a rental plot, or rent a mobile home accommodating 4 or 6 persons with a terrace in a preserved setting.

Mobile home for sale.

Access

Airport/airfield

:

Distance de l'aéroport

at

8 km

Railway station

:

Distance de la gare SNCF

at

15 km

Public transport

:

Le Port ou Corniche

at

1 km

Environment

Near the beach

:

Distance de la plage

at

2 km

On an island

In the forest

Spoken languages

Quality standards
Arrangement

28

Rental(s) 4-person mobile home

12

Rental(s) 6-person mobile home

Activities

Activities
Local product tasting at 3 km
Horse-riding centre at 4 km
Golf at 15 km
Museum at 10 km
Table tennis
Public swimming pool at 10 km

Fishing at 10 km
Hiking trail
Tennis at 5 km
Thalassotherapy at 3 km
Vivarium - Aquarium at 10 km
Sailing - Windsurfing at 2 km

Services

Night arrivals possible
Animals accepted
Tourist brochures
Gas supplies
Ice supplies
Bread

Linen hire
Mobile home hire
Bicycle hire
Cleaning/housekeeping
Reservation of outside services

Amenities

Internet access
WIFI
Kettle
Electric coffee maker
Heating
Kitchen - kitchenette
Kitchen appliances
Shared washing machine

Baby's bed
Child's bed
Baby Accessories
Microwave
Refrigerator
Shared clothes dryer
Private terrace
Television
Wifi

Equipment

Access for disabled
Playground
Wifi
Boules pitch
Shower
Children's equipment
Children's games
Mini golf

Car park
Swimming-pool
Garden lounge
Ping pong table
Shaded grounds
Half shaded grounds

Accessibility

Mobility impaired

• Reception equipped with an access ramp for reduced mobility persons. A mobile-home equipped for reduced mobility perons with parking space. Sanitary with access for reduced mobility persons.
From

March 30, 2019

to

November 10, 2019
From 59 € to 170 €

From 69 € to 180 €

From 75 € to 190 €

From 80 € to 199 €

From 95 € to 235 €
Openings

From

March 30, 2019

until

November 11, 2019

* Basse saison (Avril/Mai/Octobre/Novembre) Lundi - Dimanche 09h00-11h30 / 15h30-18h00 Moyenne saison (Juin/Septembre) Lundi - Dimanche 09h00-12h30 / 15h30-18h30 Haute saison (Juillet et Août) Lundi - Dimanche 09h00-12h30 / 15h30-19h
Leave a review about Camping Les Fougeres :
Horrible

Bad

Average

Good

Excellent
Nous avons passons une semaine l'année dernière dans ce camping. Pour une première expérience en mobil home, nous avons été déçus. Pas mal de points négatifs comme : erreur à l'accueil de numéro de mobil home une fois que nous avions vidé la voiture. Nous avons été obligés de tout remballer pour aller dans un autre mobil home beaucoup moins bien. Celui-ci avait déjà bien vécu : lino arraché sous la table à manger, banquettes avec des tissus tachés, le néon de la salle de bain qui ne fonctionnait pas donc aucune lumière (changé après avoir été demandé 2 fois à l'accueil), l'interrupteur d'une lumière qui vient dans les mains, la télé qui n'a qu'une seule chaîne disponible, nous avons du reprogrammer toutes les chaînes. La clé en fin de séjour qui ne tournait plus dans la serrure, on ne pouvait plus fermer le mobil home à clé lorsqu'on partait ! Bref, au final, pas beaucoup de points positifs à part la piscine et l'accueil. Heureusement que nous avions bénéficié d'une offre promotionnelle car franchement ça m'aurait fait mal au coeur de payer le plein tarif.

un camping très parfait.les personnelles très accueillantes.

camping trés bien ombragé ,mobhilome propre avec terrasse couverte ,parcelle bien délimitée et pas de vis a vis .piscine chauffée propre et agréable et l'accueil est chaleureux,je recommande a l'année prochaine !!!!!!!!!!

Camping très agréable, les mobil home sont assez propre et confortable mais un peu loin de la plage

Vive les vacances au camping les Fougères

Ce camping est un coin de paradis pour s'echapper du quotidien sur une magnifique ile . L'acceuil y est toujours chaleureux et souriant, la piscine les sanitaires y sont tres propres, les espaces verts sont entrenue avec passion et les bingalows sont confortable et bien agancés. Chaques été depuis 2008 nous y passons de magnifiques vacances remplis de super souvenirs. Merci à Magali, David et les filles pour leur gentillesse, pour leur bonne humeur et leur disponibilitée . c'est sur nous revenons cette année ...La famille Dessales

super camping, avec tout le confort les emplacements sont privés, c'est très propre et l'accueille et chaleureux. Nous avons passé un séjour au calme! Nous reviendrons

Repos, calme, detente, sont les maitre mots de ce camping. Merci pour cette semaine, nous reviendrons car c'est vraiment le top chez vous.

Camping vraiment génial et très calme!! Mes collègues et moi avons beaucoup de souvenir de se camping et de l'île des que possible je reviendrai!!!