HOTEL RESTAURANT L'OCEAN
Hotel-restaurant , Traditional cuisine
at Le Bois-Plage-en-Ré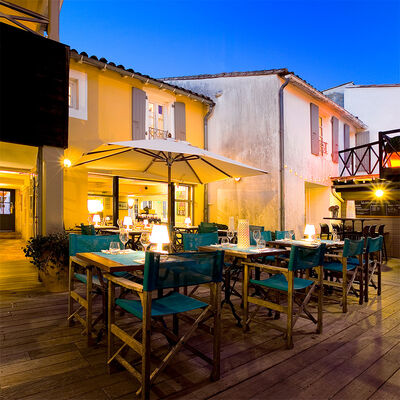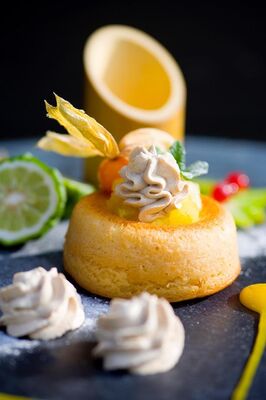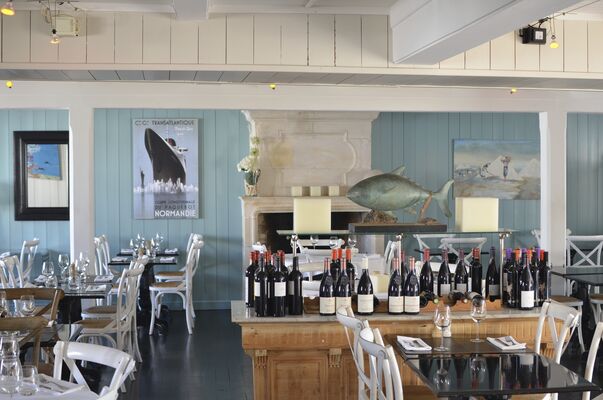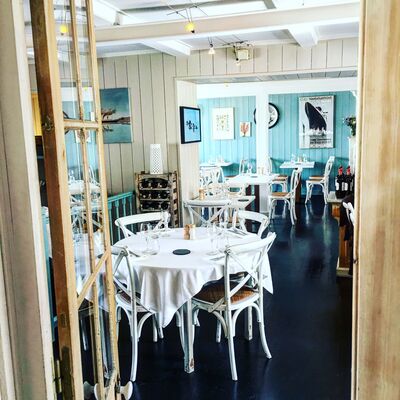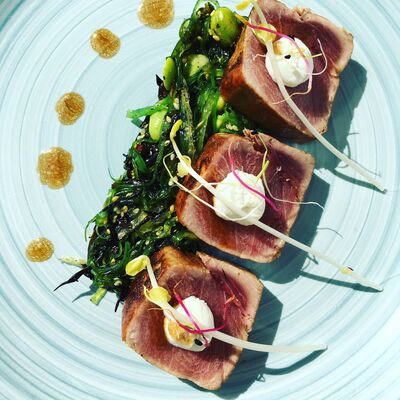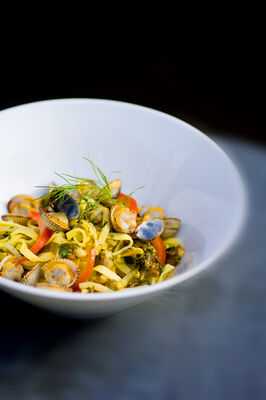 Our restaurant is set in the heart of the village, 500m from beaches. It is open all year round.

In the welcoming atmosphere of a charming house extending to a lovely patio, discover the menu highlighting sea flavours, and a simple, exquisite cuisine. Blackboard with suggestions of the day based on sea products.

Group on request.

Environment

Capacity

People :

105 place setting

Rooms :

1 Room

Spoken languages

Quality standards
Accepted customers

Group visits

Professionnels / Séminaire

Groups
Arrangement

40

Dining tables outside

Patio

Activities

Local product tasting at 50 m
Horse-riding centre at 2 km
Golf at 15 km
Bicycle hire at 50 m
Museum at 4 km
Public swimming pool at 2 km

Petanque at 800 m
Fishing at 800 m
Tennis at 2 km
Thalassotherapy at 4 km
Vivarium - Aquarium at 20 km
Sailing - Windsurfing at 800 m

Equipment

Bar
Children's equipment
Children's games

Parking nearby
Meeting room
Terrace

Amenities
14 €

From 8 € to 19 €

From 17 € to 32 €

From 7,50 € to 13 €

21,50 €
From

February 14, 2019




until

November 16, 2019
Monday

12:15 PM - 2:00 PM

7:15 PM - 9:30 PM

Tuesday

12:15 PM - 2:00 PM

7:15 PM - 9:30 PM

Wednesday

7:15 PM

9:30 PM

Thursday

12:15 PM - 2:00 PM

7:15 PM - 9:30 PM

Friday

12:15 PM - 2:00 PM

7:15 PM - 9:30 PM

Saturday

12:15 PM - 2:00 PM

7:15 PM - 9:30 PM

Sunday

12:15 PM - 2:00 PM

7:15 PM - 9:30 PM
Leave a review about Hotel Restaurant L'ocean :
Bad

Average

Good

Very good

Excellent
Merci à Fred et Anne pour leur gentillesse et leur professionnalisme,bravo au chef pour la cuisine innovante

Great food and a good choice of wine..

Arrivés la veille sur l'île, petit tour sur le marché puis la faim se fait sentir. A la recherche d'un endroit pour manger, dans un ruelle à peine fréquentée, une petite porte ... on y entre à 4, bel accueil et une carte qui nous fait saliver. Nous nous sommes régalés et avons été très bien conseillés dans nos choix, des recettes originales qui donnent envie d'y retourner. Un grand merci à toute l'équipe.

Accueil du personnel très chaleureux, même mon ptit chien était bienvenu

Cuisine raffinée, service de qualité et souriant, très beau cadre aux senteurs de jasmin. Mention speciale au gaspacho melon gingembre vanille. encore merci.

cuisine goûteuse avec uniquement des produits frais... service attentif et agréable... une très bonne soirée

Chère Cliente, Merci d'avoir pris le temps d'écrire un commentaire sur notre établissement. Nous sommes très heureux de voir que vous avez passé une bonne soirée et espérons vous revoir très prochainement. A bientôt Anne et Frédéric LATOUR

accueil sympa repas simple mais tres bon je recommande ce restaurant

Toujours pro avec le sourire

Ce restaurant ne déçoit jamais.discretion-efficacité et cadre charmant font de l'océan une adresse incontournable sur l'île de ré avec toujours en cuisine le chef yoan qui veille avec constance sur les fourneaux . Pourvu que ça dure!!!!

Qualité toujours presente

Cela faisait un moment que je n'y étais pas allée, l'occasion s'est présentée vendredi 18 octobre. Toujours très bien avec un excellent rapport qualité prix et un service pro. Mention spéciale pour le Sancerre rouge valeur sûre! Ah j'oubliais: goûtez le cheese cake...rien à voir avec ce que vous imaginez..il est étonnant!

Service un peu rapide

Très sympathique accueil , et un dîner savoureux... Cadre très agréable, ambiance bord de mer. Un conseil si vous pouvez, réservez dans le patio. Nous reviendrons...

Nickel accueil plats vins

Accueil chaleureux et diner tres bon

Ce restaurant nous a été recommandé et nous n'avons pas été déçu. L'accueil et le service très agréable et excellent dîner. Merci pour cette bonne soirée

Délicieux de l'apéritif au dessert, une équipe chaleureuse et accueillante. Rien a redire et à conseiller

Très très bon restau. Accueil très chaleureux. Ambiance zen et épuré. Repas au top (produits frais, cuisson de la viande géniale!) il faut savoir se faire plaisir de temps en temps. Réservation conseillé!

Cadre agréable, personnel sympathique et cuisine généreuse et fabuleuse. Nous avons mangé des gambas qui ressemblaient vraiment à des gambas et non à des crevettes. Adresse à retenir.

Fantastic food, warm welcome, relaxed but stylish atmosphere

Really lovely restaurant with great food using fresh local produce and charming service by a team who are passionate about what they do. Not to be missed!

enfin un restaurant de qualité ! resto distingué mais pas trop guindé....très bon accueil, personnel disponible, cadre et déco très agréable. les plats sont savoureux, les produits extra frais. Nos filles ont terminé leur assiette sans commentaire (saumon/ purée maison, ça change de l'éternel steak haché/frites !). pas de suprise au niveau de l'addition, la qualité n'a pas de prix ! restaurant à recommander

I've been lucky to eat in some fantastic restaurants and this is up there with the best. Amazing food, service and wine - we've already book to come back next week

Accueil agréable, produits frais, présentation soignée... Adresse surtout à converser!!

Endroit super sympa cuisine au top du pur bonheur très bonne adresse

Très bon restaurant, cadre sympathique, accueil chaleureux et prix raisonnables. Vous pouvez aller manger la-bas les yeux fermés.

Top notch - amazing food!

Accueil sympathique. Petite cour à l'arrière bien protégée du vent. Carte variée et prix raisonnables. Cuisine simple mais raffinée et TRÈS belle présentation des plats. Quantité suffisante. Infrastructure bien propre. A recommander pour un repas entre amis.

Très bon souvenir de ce restaurant d'ambiance raffinée et de mets gouteux accompagnés d'un bon vin.

Un lieu incontournable : ambiance cosy, cuisine raffinée, que du bonheur !! Chaque moment passé dans cet endroit reste pour moi unique et inoubliable...

Un de mes restaurants préfères sur l'île. En tant qu'ancien rethais j'aime m'y rendre a chaque retour dans cette si belle ile.