RESTAURANT CHAI NOUS COMME CHAI VOUS
Restaurant , Traditional cuisine , Gourmet cuisine
at La Flotte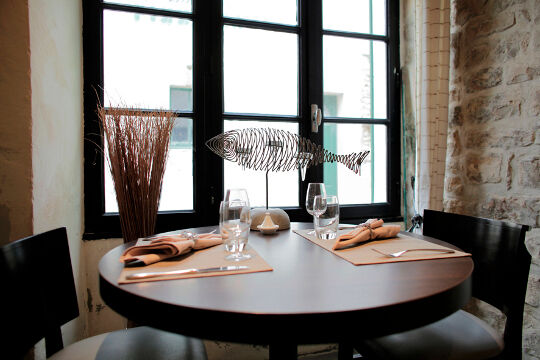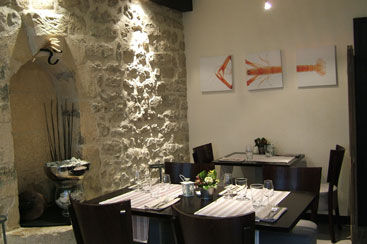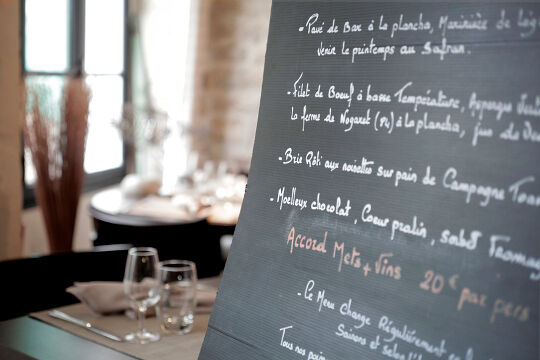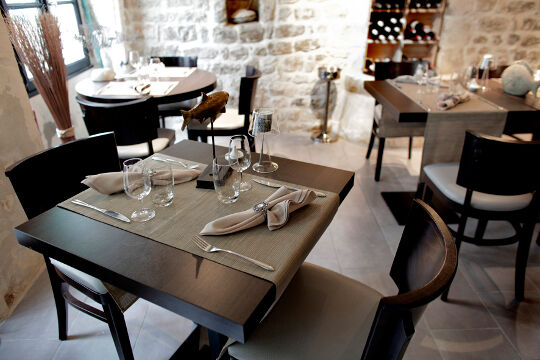 Creative cuisine based on market produce and changing according to seasons.
Tasting menu changes two or three times a week

Creative cuisine based on market produce and changing according to seasons.

In a quiet small street, within walking distance of the harbour of La Flotte, this intimate place is a real home from home.

Florence and Laurent offer you a convivial and inventive cuisine in which all ingredients are favoured.

You will be surprised by the menu which often changes depending on seasonal products. Sample, for example, various preparations of foie gras : crème brûlée, ice-cream, emulsion, terrine.…..
There is only one fixed-price menu that changes regularly. There is no à la carte menu.

To discover with your family or friends. Reservation is essential.

Tailor-made catering service available : please contact us and we will provide the formula to suit your tastes.

Fixed-price menu at €25 for lunch (starter, main course, dessert)
Fixed-price menu at €50 for dinner (five-course tasting menu, no à la carte menu).

Access

Airport/airfield

at

10 km

Railway station

at

15 km

Public transport

at

150 m

Environment

Capacity

Rooms :

1 Room

People :

35 place setting

Spoken languages

Quality standards

Tourism and handicap
Accepted customers

Group visits

Association CE Professionnels Etudiants Sportifs PMR Troisième âge

Groups
Arrangement

Equipment

Access for disabled
Parking nearby

Services

Amenities

Accessibility
From

January 1, 2019




until

January 15, 2019
Monday

at 12:30 PM

at 7:00 PM

Tuesday

at 12:30 PM

at 7:00 PM

Friday

at 12:30 PM

at 7:00 PM

Saturday

at 12:30 PM

at 7:00 PM

Sunday

at 12:30 PM

at 7:00 PM
Leave a review about Restaurant Chai Nous Comme Chai Vous :
Horrible

Bad

Average

Good

Excellent
An outstanding restaurant

Chai Nous Comme Chai Vous is a small, intimate restaurant where chef Laurent and his team create extraordinary flavours using in season, frequently local produce to tremendous effect. I have visited regularly over nearly 10 years now and it never fails to delight, sometimes in a quirky way, always innovative and with impact. Laurent's passion is ever present. Oh,, and great wine list.

Très jolie, produit frais, raffiné et jolie choix de vins

Ce restaurant caché dans une petite ruelle de la Flotte est une très belle découverte ! Un restaurant gastronomique avec une belle inventivité dans les plats, mais dans une ambiance très décontractée et sympathique ! Si vous dînez sur la terrasse, une couverture vous sera remise en début de repas pour les soirées un peu fraîches... Plein de petites attentions qui ne s'oublient pas !

Un service accueillant et des plats plein d'inventivité . Mention spéciale pour l'américano maison et l'émulsion de pommes de terre. Je recommande vivement cette table.

séjour en Re majeur très bonne table et très bon accueil qualité et convivialité au rendez vous. menus de grande qualité.

acceuil,qualité,idées rafinées...super

nous avons adoré ce restaurant avec une cuisine proche du gastro mais sans les chichis. entré+ plat+ dessert à 49euros avec des mises en bouches délicieuse. belle carte de vins mais tres cher malgres tout. le personnel est charmant et attentioné . le café est facturé 5 euros...aie aie aie.

Une table qui vaut le détour! Simple mais efficace avec des produits frais préparés de façon originale. Ambiance sympathique et service rapide. Bravo!

Accueil, choix des produits et des vins, créativité, ecoute des convives. Une fois de plus ce fut un sans faute pour ce rendez vous désormais obligatoire lors de nos passages sur l'île de Ré ! Continuez comme cela. Que du bonheur !

Très bien reçu même avec 2 tout petits une grande créativité vraiment très bien

Chai nous meilleur que chai vous

Au cœur d'un des plus beaux villages de l'île de ré, l'unique agréable restaurant gastronomique de La Flotte, vous invite à déguster une cuisine authentique. On se bouscule pour savourer ces plats inventifs, raffinés, "truffés" de mariages de saveurs subtils et harmonieux. L'atmosphère est conviviale et stimulée par une équipe familiale joyeuse. Le chef, de famille, signe une cuisine personnelle et talentueuse. Une prestation de haute tenue, UNIQUE sur l'île défiant tout les rapports Q/P...

Toujours aussi formidable

Le meilleur restaurant de l'Ile de Ré, à la qualité sans cesse renouvelée ! La grâce habite Laurent Favier dans ses compositions de saveurs, aidé par l'accueil et le service sans faille de son épouse Florence. Un restaurant à recommander sans réserves.

Rien à redire ! Déjeuner ce jour 29 juin 2012. Nous avons goûté plusieurs plats. Tous divins ! Cuisine excellente, service impeccable et accueil chaleureux. Resto à conseiller sans aucune hésitation !

Une explosion de saveurs ! Un vrai bonheur pour les papilles ! Visite du chef Laurent Favier à la fin du repas. Au top du top !

Rien à dire !!!!! C est trop bon ... À faire et refaire !!! Bravo le chef !!

Un ravissement à chaque fois.

La meilleure adresse d' l'île pour avoir été plusieurs fois dans les autres restaurants gastronomiques. Menu unique mais parfait. Chaque plat est original et emmerveille les papilles. Cuisson des viandes et des poissons parfaitement maîtrisée. Magnifique carte des vins avec possibilité accord mets et vins pour 20 euros. Accueil et service parfait. De plus excellent rapport qualité/prix.

Tout ce qu'il faut! Une superbe cave à des prix raisonnables avec des découvertes. Des produits parfaits traités intelligemment. Un endroit rare dans l île mais également en France.

Chai nous comme chez vous

Excellent restaurant et très bon accueil

Soirée parfaite tant pour la table que pour l'accueil. Des plats très intéressants et sans faux semblants, des produits et des cuissons parfaits et un accueil chaleureux. Bravo pour votre table

La meilleure table de l ile

cuisine inventive tres bon accord des vins accueil sympa peut etre la meilleure table de l ile de ré

Pourquoi un autre restau celui ci est le top pour moi

Mérite au moins 3 fourchettes

Inventivité , créativité , convivialité et une carte des vins à se damner !

Bonne ambiance menu a 20€ très bon rapport qualité prix le patron est chaleureux et privilégie la qualité pour notre plus grand bonheur. A ne pas rater les terrines de saumon et canard. Plébiscité même par nos ados.

Raffinement, mariage des saveurs originale accords mets et vins parfaits, accueil trés agréable chef créatif et soucieux de satisfaire ses hôtes. Trés bonne table.

The food, the atmosphere and the staff was all wonderful! It took three days to get a table, but it was worth the wait. The menu was adjusted beautifully to meet our dietary requirements and it was nice that we were the only English there!

Fantastic food, wonderful service

Un ravissement.

Effectivement très bonne table ! Carte des vins permettant d'accompagner tous les arômes, entrée et dessert formidables, Belles déclinaisons de homard ... A recommander.

un restaurant a essayer absolument. Un repas autour du homard absolument divain,

Après être allés dans de nombreux restaurants, nous pensons qu'il s'agit de la meilleure table de l'île et de loin. La cuisine, goûteuse, est inventive et chaque plat du menu est un ravissement pour les papilles. Carte des vins magnifique avec des prix raisonnables. Service impeccable et rapide. Accord mets et vins proposé avec justesse. Rapport qualité/prix remarquable. Une perle sur l'île. Encore bravo au chef, son épouse et son équipe.